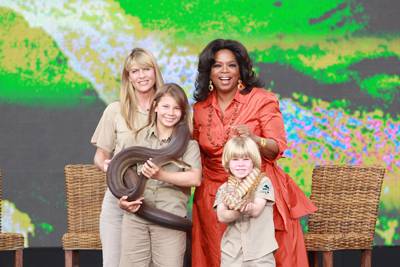 Bindi Irwin on Oprah's Ultimate Australian Adventure
As co-creator of the bestselling Bindi Wildlife Adventures book series and Australia's greatest Wildlife Warrior, it is fitting for Bindi to introduce the Queen of talk shows to some of Australia's amazing wildlife!

The much talked about appearance by Terri, Bindi and Robert Irwin on The Oprah Show during Oprah's Ultimate Australian Adventure has aired in Australia and in the USA.

Taking the opportunity to talk about what they have been up to lately, Bindi, joined by Terri and Robert, said she was very honoured to be on The Oprah Show.
"Oprah is a wonderful person and anytime she'd like to come to Australia Zoo to hug Oprah & Harpo our koalas, she's always welcome!" said Bindi.

Terri, Bindi and Robert filmed the interview at the Oprah House in Sydney, in front of 6,000 fans, in December, 2010.
"I'm really proud that Oprah decided to visit the best country on planet earth and introduce the world to Australia," said Terri.

And Robert, well he was just happy to introduce Oprah to some wildlife!
"I loved The Oprah Show because I got to hold a snake and I love snakes so much! It's good to get the message across to help wildlife," said Robert.

The Oprah show is aired in 145 countries and is watched by 7.4 million people every day.

Come and Join Bindi Irwin on her Next Wildlife Adventures!
Bindi Irwin, daughter of iconic Australian wildlife expert and conservationist Steve Irwin, returns with four more amazing adventures in the bestselling Wildlife Adventures series. Join Bindi as she rescues a lost tourist in Kakadu, runs an ecolodge in Madagascar for a fortnight, travels to Cambodia to work with an elephant conservation group in the wild Mondulkirri jungle and speaks at a climate change conference in icy Finland! Along the way, Bindi, Robert and their friends show us the importance of animal and environmental conservation.

The inspiration and co-creator of the Bindi Wildlife Adventures series, Bindi Irwin has achieved a remarkable amount in her twelve years. She's been involved in conservation projects and helped care for wildlife since she was tiny. She hosts the Emmy-award-winning TV series Bindi: The Jungle Girl, she sings, dances and stars in movies, all while helping her mum run Australia Zoo.