Caitlin Stasey & Chris Pang Tomorrow When the War Began (TWTWB) Interview
Question
: Did you read the book prior to filming?
Chris Pang
: Yes, I read the book, I did it in high school and then I went on to read a few more of the books in the series because I loved them, I thought they were amazing.
Question
: Did you notice that the film seemed to be more visually violent than the books?
Caitlin Stasey
: That's for the sake of cinema, film is a visual medium and you have to heighten the stakes by showing quite graphic things, unfortunately, or it doesn't get through.
Chris Pang
: People don't really go to the cinema, speaking in general, to see character development and the small emotional changes that is explored, you really do need action to drive the story.
Question
: Can you talk a little bit about the stunts that you were involved in?
Caitlin Stasey
: We each had a really fantastic team of stunt doubles and people that were able to help us out. We weren't that involved in the intense things.
Chris Pang
: It was mainly driving; the soldiers did most of the stunts, they were the ones getting tossed around and being lit on fire. We, as well as having stunt doubles, had to be careful. I was all for doing my own stunts, I really wanted to do it, but unfortunately my character, didn't really actually do that much.
Question
: Chris, you returned to Australia from Hong Kong for the movie, what drew you to Tomorrow: When The War Began?
Chris Pang
: I was overseas during the audition process, so I sent an audition tape in and they must have liked it because they called me down to Sydney, on my own expense. It paid off.
Question
: Caitlin, Ellie is such a strong and courage character, how are you similar to your character?
Caitlin Stasey
: I think we are similar in the sense that we both like to put the needs of others, before our own. I am not as selfless as her, by any means, but I think we both have a deep loyalty to the people that we love.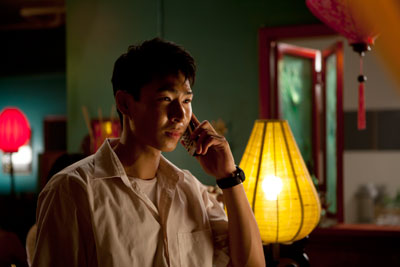 Question
: Lee is one of my favourite characters; he is a genuinely good person, what was the main reason you want to play the character of Lee?
Chris Pang
: Other than the fact...
Caitlin Stasey
: that you had no other option (laughing)!
Chris Pang
: (laughing) he is really nice and I think that comes from his upbringing. His very family orientated, growing up in a big family and living above the restaurant that he also works at and there are really strong family values that have been instilled in him from growing up in a family environment.
I think I can really relate to that because I have a very close family, I love my family a lot and I'd do anything for them which is, I think, a lot of the drive behind why Lee is so desperate to do something, as well, rather than sitting their and waiting it out.
Question
: Ellie is such a prominent character in the film; can you talk about the audition process of Ellie Linton, Caitlin?
Caitlin Stasey
: Mine was quite basic; it was sort of like anyone else's. Other than the fact that Stuart Beattie, the director, had actually seen a picture of me, a year prior to the casting and had said "that's what Ellie should look like". He was always keeping an eye out for me, which was news to me; I was astounded to hear that. I just went for an audition and went back for the call back and then it went from there. It was like any actor going for a job, I had to prove myself.
Question
: Do you actually play piano, Chris?
Chris Pang
: No I don't play piano, in real life. I learnt that. It was done at the Conservatory of Music in Sydney. I had a great teacher, who actually told me that the piece that I was learning, fortunately I only learnt ten seconds of it, because it is actually for Masters of Music. Masters of Music actually learn that piece. It was a very sophisticated and I had to learn it in a three week rehearsal period.
Question
: Many Australian and New Zealand teenagers read Tomorrow When the War Began at high school; do you see this as an advantage or disadvantage?
Caitlin Stasey
: It's both because it means we have a fan base already in existence and the bad thing is that we already have a fan base (laughing) because they have their expectations.
Question
: Did John Marsden appear on set, whilst you were filming?
Caitlin Stasey
: No, he came on set once, well into filming and that was it.
Chris Pang
: Since then, we have had a lot of contact with him, seeing him at the premieres and the media functions. While we were developing the characters and working on the film, as Caitlin said, he wasn't around that much, he just came down, for the one day.
Question
: What feedback did he have on the film?
Chris Pang
: I talked to him and his thrilled with what we did, through what he said. Last night, at the premiere, he was asking about a future sequels and what are we going to do next.
Question
: Is there going to be a sequel or series of films?
Caitlin Stasey
: Nobody knows. I mean, I wish we could say "Yes! Definitely!" because we would love to be apart of it, but the thing is you can't tell until you count the box office numbers.
Chris Pang
: It's when the numbers come in...
Caitlin Stasey
: I don't think Stuart Beattie, the director, ever wants to make more than three. If it gets to that stage, there won't be more than three.
Chris Pang
: There are seven books, but then there are the Ellie Chronicles.
Question
: In the film 'Hell' is an amazing setting, can you talk a little bit about the film location?
Caitlin Stasey
: The location for Hell was only 45 minutes from the city.
Chris Pang
: It was really close to the city.
Caitlin Stasey
: But it was incredible. The thing that was so funny about that is that there are all these houses, outside where we were filming. You just go down some steps and you're in this secluded area. There was traffic going past and planes overhead.
Chris Pang
: It literally was, when we first went there, for me, it was like in the movie when we are going through and thinking 'where the hell are we?'. Especially because we'd just come out of the suburb area and walked through a few bushes and suddenly you are in this clearing that is an absolutely amazing, picturesque scene with a little waterfall and a sandbank. That experience was actually like, in the film, for me.
Question
: One of the reasons Marsden wrote the novel was to portray young people as being capable of achieving great things. Do you think this movie is inspiring for young adults, especially females?
Caitlin Stasey
: Yes. The thing I like about Ellie, as a lead, of course she has a romantic interest, in Lee, but she is not a romantic heroine. Not that there is anything wrong with that, it's ones own provocative. Normally whenever you see female leads it is in a horror film, when they're going to be slashed up or they're the lead female in a romantic comedy. Women are capable of being on their own, and succeeding on their own and I think it is important that girls see that and realise that they don't need a boyfriend. I think it is so important because as a teenage girl I would see movies and think 'oh, I wish I was in love'. Love is great but it's not, the be all and end all.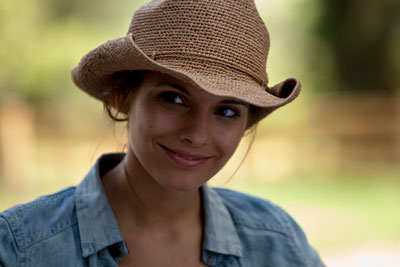 Question
: Are you able to talk about how you crafted your chemistry, on screen?
Chris Pang
: We're just good actors! There's nothing really too it.
Caitlin Stasey
: When you've spent every day together, even if you don't like each other, you get used to each other! That's what happened with us! We got used to each other (laughing)!
Caitlin Stasey is Ellie Linton
Caitlin Stasey made her major acting debut in 2003 on the popular television series The Sleepover Club playing the lead role of Francesca Thomas. Since then, Caitlin has acted in several television roles, including a high profile stint as the character Rachel Kinski on Neighbours from 2005 - 2008.
Having completed several courses at St Martins Youth Arts Centre and Children's Performing Company of Australia, Caitlin also has several theatre credits including the lead role in Snow White with the Theatre Royal Norwich in the UK, and a lead role in the Pobblebonk Productions play The Subtle Art of Flirting, directed by Scott Major.
Christopher Pang is Lee Takkam
Christopher Pang has acted in several films and television roles, including recent appearances in the TV series Tangle in 2008 and the 2006 TV series, Real Stories.
Christopher has more than 12 years of traditional Chinese martial arts training and has appeared in the feature film Citizen Jia Li, as well as the 2006 feature, Home Song Stories. Christopher's other film credits include roles in The Last Afro in 2007 and the 2006 short film Y.
Tomorrow When the War Began
Cast
: Caitlin Stasey, Rachel Hurd-Wood, Lincoln Lewis, Deniz Akdeniz, Phoebe Tonkin, Chris Pang, Ashleigh Cummings, Andy Ryan
Director
: Stuart Beattie
Genre
: Drama, Action
Rated
: M
Running Time
: 120 minutes
Synopsis
: Based on the Novel by John Marsden, Tomorrow, When The War Began follows the journey of eight high school friends in a remote country town whose lives are suddenly and violently upended by a war that no one saw coming. Cut off from their families and their friends, these eight extraordinary teenagers must learn to escape, survive and fight back against a hostile military force.
Release Date
: 2nd of September, 2010
Website
:
www.twtwb.com