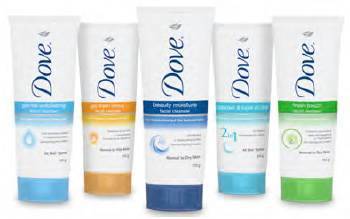 Get ready for soft, supple skin with the new look Dove Facial Cleanserrange

The damaging effects of harsh facial cleansing can be visible on skin within one week, highlighting the need for women to incorporate a mild, yet effective cleanser into their daily routine. Dove's Facial Cleanser range, effectively cleanses your face and helps maintain the skin's moisture balance. Enjoy soft, supple skin that you can feel and see.

The new look Dove Facial Cleanser range features five products each designed for different skintypes, to give women the option of choosing a product that is most suitable for their facial skincareneeds. The range has also been revitalised with new eye-catching white packaging and welcomestwo new additions, Dove Beauty Moisture Facial Cleanser and Dove Go Fresh Citrus FacialCleanser.

Cleansing your skin can diminish the moisture retaining elements from the outer protective layer ofthe skin on your face and over time it can drastically reduce the hydration level of the skin. Giventhis, it is vital to use a mild moisturising cleanser, like a Dove Facial Cleanser, which gently lathers,effectively cleanses away impurities and leaves skin feeling replenished, soft and supple everyday.

Many of the products in the range are formulated with glycerin. Glycerin has incredible waterdrawing qualities; it is absorbed into the driest layers of the skin where it intercepts and holdswater, similar to a sponge, in order to restore suppleness. Additional moisturisers such asPetroleum Jelly, shield the skin's surface to provide a protective coating to reduce water loss.

Ruth Muller, Research & Development - Dove, said: "At Dove we believe that any product awoman applies to her face should leave it in a better condition. Therefore, facial cleansingshouldn't mean you have to compromise the health of your skin.

"The Dove Facial Cleanser range is specially formulated to cleanse away impurities, whilstprotecting skin from moisture loss, making it a highly effective facial cleanser which can easily beincorporated into any woman's daily facial cleansing regime."

The new look Dove Facial Cleanser range is available in supermarkets and pharmacies.
RRP: $6.99

Women can now enjoy healthy, soft and supple skin without breaking the bank!