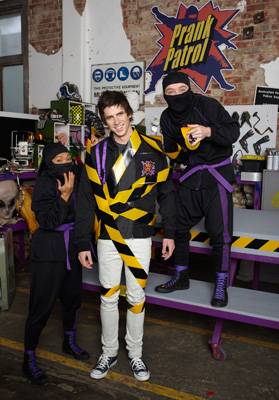 Prank Patrol Rolls into Action
ABC3's popular comedy action series Prank Patrol goes into production today in Melbourne for series two, producing a further 39 episodes.
Originally created by Canada's Apartment 11, the Australian version of Prank Patrol will be produced by Melbourne's activeTV and this time, will be filmed in both Melbourne and Brisbane.
Twenty-six episodes will be filmed in Melbourne followed by 13 in Brisbane, to air on ABC1 and ABC3 late 2010.

Proving popular with young viewers, Prank Patrol ranked in the top 10 ABC3 programs following its first run on December 4 and since then has ranked among the top 2% of all Free-to-air children's programs watched by 5-15 year-olds (Source: OzTam:5 city metro).

Host Scotty Tweedie and his prank loving ninja's will be back to meet a new prankster in each episode. Together they're on a mission to pull a prank on someone they know, whether it is a friend, sibling, parent or teacher. With the help of Scotty's spy van and a special effects crew, the new pranks will have you rolling on the floor with laughter.

Executive Head of ABC Children's Television, Tim Brooke-Hunt said "The first series of Prank Patrol was an outstanding success for ABC TV. It gained a loyal following and was one of the most-watched programs on ABC3. We are delighted to commission another 39 episodes, which will once again to be produced by activeTV and hosted by Scotty Tweedie."

Co-Executive Producer, Amanda Peppard said, "ActiveTV is excited to get back into production on this second series thanks to production investment from Film Victoria and Screen Queensland. We are currently undertaking top secret auditions so you won't know where or when Prank Patrol will pop up. We are looking forward to bringing more pranks of a lifetime to ABC3's audience!"