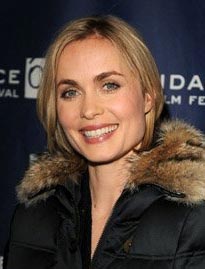 RADHA RETURNS TO SUNDANCE
EXCLUSIVE Radha Mitchell, Henry Poole Was Here Interview by Paul Fischer.

It wasn't the easiest of days to chat to Australia's Radha Mitchell. On the top of Main St in Park City, sitting in a restaurant during the wintry Sundance Film Festival, we had both just found out about Heath Ledger. "It was such a tragedy," Radha Mitchell says, wistfully, but beyond that, we decide not to talk about it. It was too painful, and the always luminous actress, dressed in her winter gear, wanted to smile, as she did, reflecting on what brought her back to Sundance, the Festival which launched her career. She is back with the life-affirming Henry Poole Was Here, a film about a man's reluctant spiritual journey, with Radha Mitchell beautifully as a single mother whose young daughter hasn't spoken in a year. "To be honest, it's great to be here with a movie that I feel like has something to add to the world," Radha Mitchell says about her latest film which received its world premiere here in Park City.

Looking back to her first Sundance experience when she arrived with the low-budget Aussie comedy Love and Other Catastrophes, "that was, strangely, the sort of movie that brought me to America. I don't think I even spent any time in America before coming to Sundance, so that was sort of what introduced me to the whole concept of Hollywood and having a career here. It was sort of purist, in the sense that I'm willing to do, like, independent movies, and be involved in things that I believed in at that time." It seems that her attitude towards the kind of work Radha Mitchell craves, hasn't really changed. "You go on the ride, you have a look at different things, try out different things and see what you like, and what you think you should like. Also your taste changes as you go. But ultimately it's funny to be coming back here and talking about it, because where my heart is in this is definitely sort of with art, or somewhere on the love side of art. Even the other night, I met a woman who was making art movies and I'm like, 'So, you're making art movies like, not art house movies.' She's like, 'No, I'm making movies to be screened in museums,' so I'm like, 'That's the kind of person that I want to work with.' "

Radha Mitchell's choices have led her largely to the periphery of mainstream Hollywood. Considered an underrated actress, Radha Mitchell says it's easy not to sell your soul. "I think you kind of follow your instincts, you know what I mean? I don't think I would enjoy being that much in the public eye that I would have to kind of monitor my behaviour and the way it's turned out, I've been able to work with some of the most amazing people, without having to become a celebrity as such. I mean, I've worked with Woody Allen and Tony Scott and all of my favourite actors, so it's turned out well that way. And why that path, who knows? Some of it just sort of comes to you whether you're conscious of it or not."

Her journey continues with Henry Poole, a film of spiritual self-discovery that she found appealing, not necessarily because of the character but the overall script. "I think the character's really sweet, and I think what's interesting about the way Mark directs, is that he sort of looks for the humanity in each of these characters, and the sort of incidental moments that happen when people are kind of unconscious. So nobody's fabulous, or there's no sort of movie point of view on everything. It feels quite real, what happens between them, even though the dialogue is, at times, slightly stylised. I kind of like this idea of depicting them as real people, and having it be quite simple in that way." The film does explore the nature of Faith and in these cynical times Radha Mitchell believes the time is ripe for a movie such as Henry Poole. "I think there's this thirst for some kind of spiritual affirmation without it being religious and I think this movie sort of toys with the idea of Christianity, but it's not really about that. It's about love, connection and what people project onto this image is sort of up to them. The power that's imbued onto that image is kind of coming from the people themselves, but I think why the movie touches people is because it's about humans who are isolated finding ways to connect and I think there's definitely a need for that right now."

Radha Mitchell calls Los Angeles home these days, but doesn't know how permanent it will be. She says she enjoys the experience by avoiding Hollywood as much as possible. "I live on the west side, so I'm sort of in a little bit of a bubble. I don't have to participate too much in the Hollywood stuff and to be honest, it's an incredible lifestyle you can have. I mean the quality of life is probably not equivalent to the life you would have in Australia, but it is good. And if you can sort of align everything in the way you want it, like have your family come and visit frequently, and so on, it's good." Despite the occasional American twang that creeps out of her on occasion, the beautiful actress wants to work more in her native Australia. "I really want to do a movie there with Guy Pearce. I don't know if it's gonna get its financing, but it's, again, like, one of those very left, left, left movies. It's really cool and I'm not sure who's gonna pay for it at this point." Radha Mitchell says that she is eying her next project. "There's a thing I want to do next, and I'm not sure exactly what's gonna happen with it right now, but it is quite big, and kind of cult."


Henry Poole Was Here
Starring: Luke Wilson, George Lopez, Cheryl Hines, Radha Mitchell, Adriana Barraza
Director: Mark Pellington
Genre: Comedies
Screenwriter: Albert Torres

For a man who seems to be living a perfect life--comfortable, engaged, full of opportunity--the discovery in a routine doctor's checkup that all is not well prompts Henry Poole to flee. He finds himself alone in a new house and a new place, somewhere where perhaps he can try to escape the fate...