"When people visit Sunshine Hills, they comment on the beauty and the serenity. What they don't talk about is the raw fear that resides in our eyes..."
Searing and luscious, Beautiful tells the story of Daniel, a shy and introverted 14 year old boy residing in Sunshine Hills, a suburb living in the grip of fear following the rumoured abductions of three teenage girls. Daniel's two main obsessions are photography and Suzy, a 17 year old Lolita, a dangerous combination of youth and sexuality. Using his crush to her advantage, Suzy asks Daniel that in exchange for her friendship he must bring her secrets and photographs of the neighbours and houses that surround them. Thus begins a journey into the underbelly of suburbia, taking them on the trail of a could be killer - and what starts out as an innocent summer holiday becomes anything but, leading them from childhood fantasy and into the harsh reality of the real world... one of savagery and murder.
An Australian film like no other, this is a controversial new thriller in the best American independent tradition. Taking its cue from the idyllic but toxic settings rendered iconic in films as diverse as "Blue Velvet" and "Disturbia", from "Donnie Darko" to "The Virgin Suicides" and "American Beauty", yet with an unmistakable voice of its own, Beautiful is suburbia as never seen before - sexual, funny, sensuous, strange and terrifying. It's an indelible debut from a brave new talent.
Beautiful is the first feature for Dean O'Flaherty, who has had an eclectic career in cinema spanning the last seventeen years and has been associated with many prestigious and landmark acquisitions in distribution and sales including "Irreversible" and the Palme d'Or winning "4 Months, 3 Weeks and 2 Days".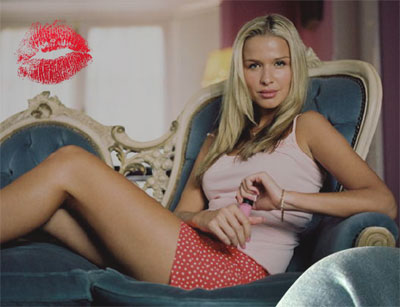 Tahyna Tozzi
Born on the 24th of April 1986, 22 year old Tahyna Tozzi has been living and breathing music since she was a baby and has been writing and performing from a very young age. She has performed live gigs at popular night spots in Sydney with hip hop group, "The Blend" and the acoustic duo, "Juste Advenu". She has worked with various Australian music writers and producers, including Vince Pizzanga, James Kempster at Rock Candy Productions and Tony Bukham, as well as writers and producers in New York. Tahyna plays the piano, guitar, saxophone and drums and is trained in various forms of dance including jazz and ballet.
Tahyna Tozzi made her television debut in the lead role of Perri in the popular teen series, Blue Water High, for the ABC network. Blue Water High airs in 30 countries around the world and has just wrapped shooting its second series. Most recently Tahyna Tozzi can be seen in the big budget feature film Wolverine and guest appearances in Channel Nine's The Strip.
Tahyna Tozzi Beautiful Interview
Is Beautiful the second movie you have starred in?
Tahyna Tozzi:
It was actually my first major role in a feature film. I have since worked on other projects but Beautiful was my first ever film after Blue Water High.
How does it feel to have landed a role in such a controversial Australian thriller?
Tahyna Tozzi:
Its a mixture of emotions. Excitement and nervousness is predominantly what I'm feeling at the moment. I'm extremely proud of the film and everyone that was involved. It was a blessing to work with such gifted actors and an amazing director plus the most lovely hard working crew.
Tell us a bit about your character in Beautiful?
Tahyna Tozzi:
Suzy is somewhat a femme fatale. She is very manipulative and very in touch with her sexuality. She likes to push the buttons of everyone around her, in fact she thrives off this. She is like a spider that captures her prey in her web.
What was your favourite part about Beautiful?
Tahyna Tozzi:
There are many different things that I love in the film. The vivid imagery throughout the film is something that I truly appreciate. I love the idea of suburban gossip in all its twisted form of Chinese whispers and the consequences. The fact that my character is essentially the driver of this mayhem is what makes her so enticing to play.
Which do you prefer, television series or movies?
Tahyna Tozzi:
Well television is a full time and guaranteed job-nice and scheduled. I do love having everything stable and planned. However, film making is so much more exciting and intense. You have the chance to explore so many possibilities of the human mind in each character you play. It's like being a child again playing and extending your imagination.
When did you choose to go into performing?
Tahyna Tozzi:
I knew the day I was born I cried for hours and hours straight. My mother said the nurse came in saying "she has a set of lungs on her to be heard"...I think it was part of my being to perform. I always remember putting on little performances ever since I was young. It was in my blood.
You really are a performer, dancing, singing and acting. Did you always know your career would be in performance?
Tahyna Tozzi:
I always knew. I love dancing and I love singing. I made the conscious decision to pursue acting at age 15 - that's when I knew that it was what I wanted to do with the rest of my life. I did go through a strange faze of wanting to be a marine biologist at age 10-but I think I just thought that sounded cool.
Is it hard to be taken seriously so young?
Tahyna Tozzi:
Yes and No. Some of these generations most talented actors are my age or younger. Take for example Keira Knightly and Scarlett Johansson. Being 22 I perhaps haven't got the same life experiences as some other actors. That also goes for characters that require certain aspects of life experience that perhaps I couldn't comprehend at my age.
How was it working with a well-known Australian cast? Did you learn anything?
Tahyna Tozzi:
* *I learnt more on that set than I did in two years of Theatrical training. Watching them work was a wonderful experience. There is a lot about film making that the general outsider doesn't see so it can often be very daunting. I was very lucky to work with such amazing people, it opened me up as an actress to the possibilities and the true fulfillment of an actor.
Cast
: Tahyna Tozzi, Sebastian Gregory, Erik Thomson, Deborra-Lee Furness, Aaron Jeffery, Peta Wilson, Asher Keddie, Socratis Otto
Director
: Dean O'Flaherty
Genre
:Thriller
Running Time
: 97 MINS
Two teenagers are drawn into a web of seduction, murder and deceit in this sexy, controversial thriller. An auspicious directorial debut for Dean O'Flaherty, Beautiful imagines Australian suburbia as you have never seen it - a place which might have been dreamt up by David Lynch or Pedro Almodovar. Completing the vision is a pulsating original score by Paul Mac and an eclectic ensemble cast: Peta Wilson, Sebastian Gregory, Tahyna Tozzi, Deborra-lee Furness, Aaron Jeffery, Asher Keddie, Erik Thomson and Socratis Otto.
Daniel is an introverted 14 year old whose two main obsessions are photography and Suzy, a seventeen year old femme fatale in training, a dangerous combination of youth and sexuality. Their suburb of Sunshine Hills is haunted by the urban myths of missing teenage girls.
Using his crush to her advantage, Suzy demands of Daniel that he brings her secrets of the neighbours that surround them. Thus begins a journey into the underbelly of suburbia, taking them on the trail of a killer - and what starts out as something innocent in the realm of childhood fantasy quickly leads to the harsh reality of the real world, a journey into forbidden knowledge that can only end in murder...
IN CINEMAS NATIONALLY MARCH 5

Brooke Hunter