The Smurfs 3D
Voice Cast
: Neil Patrick Harris, Quentin Tarantino, Sofia Vergara, Kevin James, Katy Perry, George Lopez
Director
: Raja Gosnell
Genre
: Comedy, Adventure
Rated
: G
Running Time
: 103 minutes
Synopsis
: Audiences everywhere are in for a Smurfy good time as the Smurfs make their first 3D trip to the big screen in Columbia Pictures'/Sony Pictures Animation's hybrid live-action and animated family comedy, The Smurfs. When the evil wizard Gargamel chases the tiny blue Smurfs out of their village, they tumble from their magical world and into ours - in fact, smack dab in the middle of New York's Central Park. The Smurfs must find a way to get back to their village before Gargamel tracks them down.
Release Date
: From September 1st, 2011
Website
:
www.SmufHappens.com.au
About the Film
In 1958, a Belgian artist named Pierre "Peyo" Culliford created the Smurfs for a comic book. The "Schtroumpfs," as they were called, were immediately popular - generating a wave of letters to the editor demanding more - and over the next fifty years, they became nothing short of a phenomenon, coming to life in comics, books, television series, films, videogames, live shows, and figurines (over 300 million sold). The characters' cross-generational appeal has only grown as children who grew up on the Smurfs - including the Saturday morning cartoon - are now parents themselves and introducing their children to the Smurfs for the first time.
According to producer Jordan Kerner, it's easy to see why the Smurfs have entertained people around the world for generations. It's not just that they're adorable - they also represent a type of humanity at its best. "The Smurfs are an analogy for a nation," says Jordan Kerner. "They emphasise family and the importance of cooperation. More importantly, they always see the best in people first. The Smurfs really care for and look after one another."
Now, the Smurfs make their first trip out of their village and land on the big screen in Columbia Pictures and Sony Pictures Animation's The Smurfs. "It's very much a Smurf-out-of-water movie," says Raja Gosnell, who directs. "We took this Smurfy code of living and played it against modern-day New York City."
The story of Jordan Kerner's quest to bring the Smurfs to the big screen reaches all the way back to a breakfast meeting in 1980 with legendary NBC executive Brandon Tartikoff. Brandon Tartikoff suggested that Jordan Kerner read a book series based on the Smurfs, which Brandon Tartikoff was considering to develop into a show. Jordan Kerner was immediately captivated. Of course, Brandon Tartikoff would bring "The Smurfs" to Saturday mornings, with the Hanna-Barbera series running 256 episodes over eight years.
In 1997, Jordan Kerner sent the first of a series of letters to Lafig, the licensing agent for the Smurfs brand, expressing his interest in making a movie. And in 2002, after there was a draft of Jordan Kerner's successful, heartfelt adaptation of E.B. White's classic novel, Charlotte's Web, Peyo's heirs knew that the Smurfs would be in good hands.
Véronique Culliford, Peyo's daughter, says that her father gave his creation a universal appeal. "The Smurfs are all very similar, but each Smurf is unique," she says. "Everybody can recognise himself in one of the Smurfs. There is a Smurf for every personality. They are very kind, very social. They have all the qualities that people would like to have."
As Veronique Culliford notes, some things change in life, but the Smurfs are a constant reference point. "The stories remain popular across the generations because people will stay people. We remain as we are and the Smurfs mirror us in our lives. We can adapt to the years, to different technology, but who we are is unchanged."
Veronique Culliford and her family had wanted to make a movie of the Smurfs for many years. When it became obvious that Jordan Kerner shared their vision and enthusiasm, Veronique Culliford saw it as "magic. Jordan Kerner was the first person we met who wanted to make the same Smurf movie we wanted to make," she says.
It's a fulfillment of a long-time dream for Veronique Culliford, who has grown up with her father's creation. "The Smurfs arrived in 1958, my birth year," she says, "so the Smurfs have been part of my life from the beginning. I always lived with the Smurfs. My father worked at home, and when I'd get back from school, there would be Smurfs everywhere, and we would speak Smurf. For me, it's so natural to have the Smurfs around."
Jordan Kerner felt that this film was the perfect new form for the next iteration of the Smurf story, all of which was shot in New York City at such iconic locations as Central Park and Belvedere Castle, as well as FAO Schwarz, the Russian Tea Room, Rockefeller Center, and Brooklyn's Prospect Park.
Jordan Kerner adds that director Raja Gosnell's expertise and gentle touch -- not to mention his hands-on experience marrying live-action and computer animated characters in such films as Scooby-Doo and Beverly Hills Chihuahua - made him the perfect choice to direct. "I just have to say that Raja Gosnell is one of the smartest, most intuitive, kindest, wonderful people to work with," he says. "It was magical every day. We all wanted to make a film we would be proud of, and to help execute the vision he had for these characters."
The family wanted to preserve the Smurf legacy as true to form as possible-and so did Jordan Kerner. "The most important thing," Veronique Culliford adds, "is that the Smurfs stay the Smurfs. They're leaving their village for the first time, which is exciting.
There are many questions that need to be answered in the mythology of the Smurfs and Jordan Kerner sees them being answered in the framework of a franchise. Who are the Smurfs, really, and Where do they come from? How did Gargamel get there and why is he such a sour puss? Why did he create Smurfette?
One of the many continuing traditions is the introduction of new Smurfs. The filmmakers had the opportunity to imagine three new Smurfs for the movie - Panicky, Crazy, and Gutsy, the last of which takes on a starring role.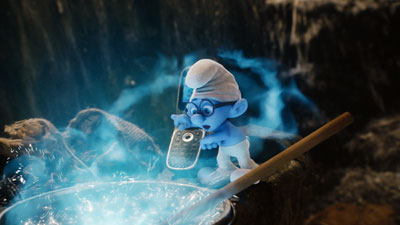 About the Smurfs
With about 100 different Smurfs running around Smurf village, give or take a Smurf, it can be a difficult task to keep everybody happy. You have to have patience, brains, maturity…and perhaps a beard. As the wise leader of the Smurfs, Papa Smurf truly embodies these qualities and knows how to handle his Smurfs. Papa can often be found with his spell book in his mushroom, concocting potions to protect his Smurfs from the evil wizard, Gargamel. When Papa's magic foretells of impending disaster, he faces his biggest challenge yet: going toe-to-toe with Gargamel and leading the Smurfs safely through New York City!
Comedy legend Jonathan Winters gives voice to Papa Smurf. "Papa Smurf is older and wiser. If Papa Smurf doesn't have all the answers, he certainly has most of them," says Jonathan Winters.
"Papa Smurf is the leader, but he leads in a way that it's all about teamwork," Jonathan Winters explains. "With Papa Smurf in charge, no Smurf is left behind."
Jonathan Winters has a history with the franchise: he had been the voice of Grandpa Smurf in the Hanna-Barbera series.
There's something special about Smurfette. Whether it's her beauty, sweet voice, charming personality, or just the fact that she is the only girl among 100 boys, she just makes the other Smurfs go absolutely gaga. Originally created by Gargamel to trap the other Smurfs, Papa Smurf's magic saved her and transformed her into a real Smurf. With a smart, savvy attitude, she'll prove what a pint-sized punch she has when she comes face to face with her creator.
As it happens, the filmmakers set their heart on Katy Perry for the role even before she spoke a single line of dialogue. "They had done a blind test where they took certain voices from previous interviews and matched them with the character," Katy Perry explains. "They liked my voice without even knowing who it was, and when they found out it was me, they thought that would work out. My personality was just a plus!"
Katy Perry found an affinity with the character she plays. "They asked me to add my nuance to it - so I was able to be sassy and cute, a little mischievous and funny," she says. "It's really interesting, because I got to be a part of creating her character. It's really fun - it's basically my voice with some rocks thrown in it, like I had too many cups of coffee."
Katy Perry says that making the transition from world-famous recording artist to voiceover actress was an organic next step. "I use my voice every single day," she explains, "and I feel very cartoony at times, just in the way I present myself. So It was a natural progression - something natural for me to do."
If it wasn't for bad luck, Clumsy wouldn't have any luck at all - wherever he goes, calamity is sure to follow. With two left feet and an oversized hat and ears, Clumsy's good intentions pave the road for trouble - and this time the road he chooses leads the Smurfs into a strange new place, New York City. But everyone has a hero inside of him, and when his other Smurfs need him, Clumsy will prove that you can be more than a name.
Anton Yelchin's performance as Clumsy is a little different than the Clumsy that die-hard Smurf fans might remember. "I was familiar with Clumsy from the TV series, where he had that Southern twang," he says. "I went back and watched that, and then Raja Gosnell, Jordan Kerner and I talked about it. We decided to make Clumsy a little simpler, a little sweeter. His voice is pitched higher than my normal speaking voice - it's full of joy, optimism, and enthusiasm for life. Clumsy isn't trying to mess anything up for anybody - he's just clumsy, and actually, he's tired of being clumsy."
"Clumsy is the heart and soul of the movie," says Raja Gosnell. "His journey is the most emotional. He's kind of the put-upon younger brother - in a way, the cause of all their problems - trying to find his place in the big Smurf family. Anton Yelchin has an incredibly youthful, soulful voice, perfect for our little Clumsy."
If every village has its idiot, every village also has a Brainy. Overeager and a bit over-educated, he's a "know-it-all" who really doesn't know it all. Brainy is Papa's self-appointed right-hand Smurf, and even if he's annoying at times with his encyclopedia-like knowledge, he might just be the Smurf you want to cast a spell when Papa's not around.
Fred Armisen, best known for his "Saturday Night Live" characters, including President Obama, says Raja Gosnell and Jordan Kerner made ideal collaborators. "They had a strong vision in mind for the character," says Fred Armisen. "It's always a good thing to be working with people who care deeply about what they're doing."
Being a regular on "Saturday Night Live" surely puts Fred Armisen around celebrities often enough. So who gets him star-struck? "Jonathan Winters," says the funnyman. "I was really psyched to meet him. My whole life, I've seen him on TV - he was really cool."
Easily distinguished by his kilt, roguish sideburns, rugged good looks and Scottish accent, Gutsy has the bravado to take any risk. A guy who Smurfs first and asks questions later, he's quick to jump headlong into adventure for his fellow Smurfs.
"I felt very proud to be the Scottish Smurf," says Scotsman Alan Cumming. "It was a good and humorous responsibility - that I would be representing all my nation's Smurf qualities."
Alan Cumming was even able to bring some Scottish slang to the part: "One word I started to use was 'numpty' - it means 'idiot,' like 'you stupid numpty, you big numpty.' I am singlehandedly reintroducing numpty - not just to the English language, but to the world."
Gutsy was created for his role in The Smurfs. "He's our action hero," says Raja Gosnell. "He's eternally optimistic and brave, our rough and ready guy, the first to charge into any situation."
Alan Cumming has been known to "work blue" - that is, get a little risqué - in his films for adults, but this is his first time being blue on screen, in a role suitable for the whole family. "It's fun to do a part that's light, just a laugh," Alan Cumming says. "My niece and nephews are older now but they used to love it, like when I was in Spy Kids."
Alan Cumming says that voice acting represents a unique opportunity for the actor. "It's so important, because your voice is the only human element in the character. When you start, there's no film, no animation, and only your voice to guide the character. I quite enjoyed that," he notes. "As you're creating the character, you get to try out different ideas. Gutsy came fairly quickly - he's Scottish, but a gruffer kind of Scottish than my usual speaking voice. As you go on, you get into a groove and you find the character."
Though they recorded their roles separately, voicing a Smurf became a sort of badge of honor for the actors. "I met Katy Perry at a party, and it was funny to be able to meet someone and say, 'Oh, you're Smurfette,' and she goes, 'Oh, you're Gutsy.'"
Before you think that every Smurf is all about happiness, sunshine, and rainbows, you need to meet Grouchy. He smurfs up on the wrong side of the bed……every day. He hates sunshine, rainbows make him sick, and happiness makes him unhappy. However, somewhere underneath all the scowling and grouching is a heart of gold….although, he probably hates gold too.
"The Smurfs is a worldwide franchise - they're los Pitufos in Spanish - so I saw the Smurfs bilingually, when I was growing up," says George Lopez.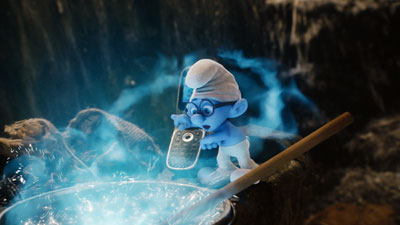 George Lopez says he simply dialed his own inner crank up to 11 to play the role. "I had no coffee, I picked the busiest time to get to the studio, I made sure I had bad breath. And I have a daughter, she's 15, and that'll keep you grouchy all by itself. When I first saw Grouchy, he had his arms crossed, eyebrows down, and I thought it was just a bluish resemblance to how I normally look."
George Lopez has voiced several roles in films, and for The Smurfs, he re-teams with director Raja Gosnell (following their collaboration on Beverly Hills Chihuahua). "In doing voice work, I think the soul comes through," says George Lopez. Like any on-camera role, the part is not only the words on the page supplied by the writers, but, as George Lopez puts it, "the way you interpret it, as you would speak to somebody. You're not just reading a script - you're connecting with the audience."
Know Your Enemy: Gargamel
If ugly had a name, it would be Gargamel. And if obsession had a face, it would look like Gargamel. This evil wizard is consumed by all things Smurfs: they're all he thinks about, all he talks about, and all he's ever wanted. A zero when it comes to magic and a negative 100 in the hygiene department, Gargamel is nevertheless always scheming up convoluted ways to capture the fabled Smurfs and drain them of their "essence" - the key ingredient in creating the most powerful spells! Gargamel will do anything to capture a Smurf, including chase them into New York City, all in order to become the most powerful wizard in the world!
Hank Azaria takes on the role of the wannabe wizard. "Gargamel is evil and pretty proud of it," says Hank Azaria. "He aspires to make the move from an awful wizard to a great one. That's why he is obsessed with Smurfs - he needs their magical blue essence to make himself more powerful."
But Gargamel's relationship to the Smurfs isn't explained quite that easily. "I think he just hates the Smurfs - they're such a happy family and he's so alone with only his cat. He's driven by just plain-old hate. He's a pretty juicy character on so many levels."
Settling on Gargamel's vocal characteristics required a mix of different approaches. "Gargamel's very theatrical - not only does he want to be a great wizard, he wants to be worshipped and considered a genius. He wants all that good press," says Hank Azaria. "We had a long discussion about whether he should sound Shakespearean and self-important, as if he was an old stage actor, or if we should make him more sarcastic instead of yelling all the time. In the end, you can't play Gargamel without screaming your head off. It just can't happen. The second you see a Smurf you have to lose your mind, or you're not Gargamel."
Of course, it wasn't enough for Hank Azaria to sound ugly - he'd have to look the part as well. Getting properly uglied up required hours in the make-up chair for Azaria. "It starts with the ears," he explains. "Gargamel has big old ears and a big old nose and there's a lot of painting that goes on to make it all even."
Then comes the hair - though Azaria was able to make that process an easier experience by shaving his head. "They apply Gargamel's strange monkish hair, and then the eyebrows come on and then I pop in some big, weird buck teeth."
Those big teeth sometimes went flying out of Hank Azaria's mouth during a scene. "They were hard at first," he says. "It literally took practice to talk with them. And they did occasionally fly out of my mouth in the middle of particularly screamy takes."
Gargamel's partner in crime is Azrael, his cat. And Hank Azaria discovered that he had to not only figure out the relationship as characters in the story, but as live actors, working with a real cat, as well. "I wanted to make the relationship with the cat like a bickering married couple," says Hank Azaria. "If you're talking to the cat, it makes sense. And if the cat has a sort of bored attitude about it, it's even funnier.
Four cats would play the role, and in certain scenes, the filmmakers chose to employ a CG-animated Azrael (animated by Tippett Studios). Hank Azaria says that though working with live animals always requires patience, the payoff is easily worth the effort. And sometimes, feline fate smiles on the production. "The real cat would actually give us the perfect meow on cue," he says.
Our World
When Gargamel and the Smurfs come through the portal and into New York City, they enter the lives of Patrick Winslow and his wife Grace.
Patrick Winslow is a young marketing executive for the New York City based cosmetics company Anjelou and is months away from starting his own family. He's a nervous wreck about everything - not least of which is his impending fatherhood and his new job - and his nerves are going to take a beating when the Smurfs suddenly fall into his life!
Neil Patrick Harris plays the role. "Patrick Winslow is married with a child on the way - he's an ad exec guy trying to make it in the business world, and he's constantly in fear of losing his job. So he's sort of in the very business-headed frame of mind, and that has both him and his wife a little concerned that he's not going to be a decent parent, or even be present for the birth of their child - not only physically, but emotionally.
"When the Smurfs come into his life, he has to behave in a very patient, even parental way with them, and when he does that, he realises the potential to be a great dad that he has inside," says Neil Patrick Harris. "Grace is a more naturally maternal giver of wisdom to the Smurfs, while Patrick is an accidental participant who sees growth and change."
Working with director Raja Gosnell was both a satisfying and enlightening experience for Neil Patrick Harris. "Raja Gosnell did a great job - he had to deal with so many weird little things happening all at the same time. Not only do you have all the ordinary stuff - making sure the actors hit their marks and it's all lit correctly - but you might have an animal in the scene, or maybe bowls on monofilament that in the final shot the Smurfs will be carrying around… Raja Gosnell had to keep it all in his head so that when you see the movie, you never think about any of that - it's just that the Smurfs are part of our world."
"Not only is Neil Patrick Harris incredibly funny and charming, but he also delivered nuance to the role," says Raja Gosnell. "His character and Papa have a few quiet moments together, and he makes those scenes surprisingly emotional. And when you remember that Neil was talking to a little wire when he filmed it, it's an indication that Neil Patrick Harris is also very game. A large part of acting is responding to your fellow actors, so it's incredibly difficult to work opposite characters that aren't there. But Neil Patrick Harris jumped on it and embraced it."
Grace Winslow is a craft-furniture artist and Patrick's loving, supportive, 5-month pregnant wife. Her husband is a little rattled, what with the new baby, the new job, and the six mythical creatures that turn his life upside down… but the optimistic Grace will always be there to straighten him out.
Jayma Mays, who plays Grace, had watched the cartoons growing up - maybe a little unwillingly. "My mom loved them, so she made me watch them with her," laughs Jayma Mays. "Just to get under her skin, I would always tell her that my favorites were Gargamel and Azrael! We had the sheets, we had the Smurfs glasses, the sippy cups, all that stuff. But secretly, I was a fan - I loved the show - but I was at an age that I couldn't admit that I liked something that my mom wanted me to like."
"For Grace it's so exciting that these little creatures have come into her world and her life," Jayma Mays explains. "She loves them and she loves their spontaneity and carefree outlook on life - she enjoys her own life being thrown into the air a bit. That's something she's trying to convince Patrick - it's okay to have fun and it's okay to be disrupted in your life. And since they're about to have a child, everything's going to be a bit disrupted for a while - and the Smurfs help him get ready for that."
Raja Gosnell says that Grace is a surprisingly tricky role. "You have to be both funny and emotional," says Raja Gosnell. "She was the only actress who made us believe both sides - her comedic skills are just fantastic, and she also had the enthusiasm and excitement that made us believe what we were watching was real."
Odile is the tough, beautiful and determined owner of the global cosmetics company, Anjelou. She's quick-tempered, even quicker to change her mind - and becomes a force of anxiety in Patrick's life when she promotes him to head a new marketing campaign for a new product… that launches in just two days. This diva CEO will do anything to ensure her company's success, even invest a little time in a misguided wizard who might just have the key for the next big skin care revolution.
As Odile, Sofia Vergara sought to draw a balance in her character, so as not to go over the top. "I wanted Odile to be believable, but also funny, strong and very focused on what she wants," says Sofia Vergara. "This is a woman who is really into what she does and she makes everybody around her know it."
Growing up in Colombia in the 1980s, Sofia Vergara says, "Everybody would watch the Smurfs. Even my son, who is 19 now, enjoyed the Smurfs when he was young."
"Project Runway's" Tim Gunn takes on the role of Odile's right hand man. Henri is Odile's fashion-forward and quick-witted lieutenant who is always eager to stir the pot - especially when it comes to Patrick! (The character was originally named Henry until Neil Patrick Harris turned him into the sophisticated Henri.)
Tim Gunn stole the show behind the scenes. Costume designer Rita Ryack remembers, "Tim Gunn asked to keep his wardrobe upon wrap, as he hoped to wear the items on the next season of 'Project Runway.' I was thrilled. He even went so far as to refrain from sitting in his chair while on set - he didn't want to wrinkle his suit!" Now that is a true fashionista.
The Smurfs also features cameos that make up a veritable Who's Who of contemporary New York City's most iconic personalities. For one scene in particular, an Anjelou cosmetics product launch, it was essential to make the party the must-attend New York event. Among the attendees were Joan Rivers, Liz Smith, Tom Colicchio, Olivia Palermo and Michael Musto. Each of them arrived in their own wardrobe in order to make them appear authentically themselves. Rivers, in particular, was a huge crew favorite - when she arrived early for her call time, production scrambled to find her the perfect trailer. Executive producer Ezra Swerdlow was thrilled to share his space with the comedy legend.
From Smurf Village to New York City
Until this theatrical motion picture, the Smurfs had only been represented in two dimensions. Taking them into a dimensional, CG-animated space, and in 3D stereo no less, was the major challenge for the filmmakers.
It began on set, where the director of photography, Phil Méheux, and the film's production designer, Bill Boes, coordinated efforts with visual effects supervisor Richard R. Hoover, SPI senior animation supervisor Troy Saliba, and SPI senior VFX producer Lydia Bottegoni of Sony Pictures Imageworks to build sets, light them, and shoot the film in such a way that the three-apple-high stars could be added later. 3D visual effects supervisor Rob Engle was also on hand to ensure that it would all come to life in 3D.
"There were an awful lot of moving parts on this movie," says Raja Gosnell. "Basic Directing 101 is about moving your characters around, how you stage a scene. On this movie, we had to stage scenes in which six characters weren't there. The actors would have to interact with nothing, and sometimes the camera would move, following nothing. My biggest job as a director was to keep the eye on the prize - how to keep everyone moving toward the same goal. Everyone embraced the fun and the challenge of the project, and by mid-movie, we were flying."
Bill Boes' team was responsible for the film's physical sets, including Grace and Patrick's New York apartment, a two-thirds replica of Belvedere Castle, and Gargamel's dungeon in the Castle. There isn't really a dungeon under the castle, so the filmmakers built their dream dungeon on a soundstage.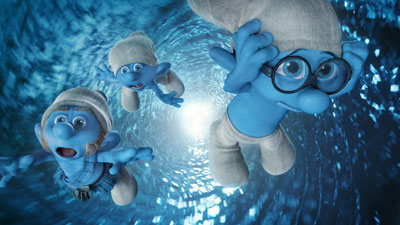 The centerpiece of Gargamel's dungeon is the Smurfalator - the machine that will extract the Smurfs' essence (if Gargamel ever actually succeeds in catching a Smurf). "He doesn't have anything, so he makes the Smurfalator out of found items," explains Bill Boes.
For the climactic battle sequence, Bill Boes says, "The castle has a couple different levels. Raja Gosnell and I wanted to have Gargamel land on one level and then come down and battle the Smurfs. It's like an assault on the castle, with Smurfs coming from every direction to battle Gargamel, who's in the middle. It had to feel like a medieval battle."
Lighting and shooting Bill Boes' sets was a huge challenge for Phil Méheux, as six of the film's stars existed only in the mind (and, later, the computer). "Because, obviously, the Smurfs weren't actually there when we were shooting, it took an immense amount of concentration to imagine what they were doing and how they were doing it," says Phil Méheux. "We had to decide what sort of lights should be on them and how the camera should move." And it wasn't just a matter of figuring it out once. "The Smurfs get into all sorts of fixes and all sorts of different situations: day and night, inside and outside." All of that made for an interesting film photographically, but set a high bar.
To help him light the Smurfs' (and their animators') way, Phil Méheux and his team used "life-size" (that is, 7½-inch tall) models to stand in for the Smurfs during set-up and rehearsal. "We can then position the light so that it falls right. The actors know where the Smurf will be when it is animated later, so their eyelines will match. Then we can take out the model and shoot the scene, and they look quite real, fitting the real backing that we're giving them. It looks like they're part of the surroundings." During this process, the Imageworks visual effects team employed a new camera system to precisely record the on-set lighting, to be applied later in the computer.
One curious effect of putting 7½-inch tall characters in a real-life world is that shooting from those characters' perspective makes you see the world in an entirely different way. "In most films, the ceiling hardly ever appears. But if you lie on the floor and look up, you'll get a good idea of what it's like to be a Smurf: everyone is very tall and you always see the ceiling." To help create Smurf-o-vision, the filmmakers built a periscope-like device that gives the eye a three-apple-high perspective.
With the film in the can, the baton was passed to Richard R. Hoover, Troy Saliba, and Lydia Bottegoni. During months of pre-production, Sony Pictures Animation and Imageworks artists developed design considerations, explored concepts, and built 3D models necessary to shoot the live-action scenes and prepare Pierre "Peyo" Culliford's simply drawn characters to convincingly interact in and with a live-action world. The Sony in-house artists produced a test sequence combining the CG Smurf and live action. This test validated the concept and the transformation of the Smurfs to CG, its impressive visuals earning the project its greenlight. Whereupon visual development artist and character designer Allen Battino modified the initial work to reach the final re-design.
Most people know the Smurfs either from Pierre "Peyo" Culliford's drawings or from the 1980s television series, Allen Battino says; these character designs are very different from each other, and neither would work for the feature film. "Pierre "Peyo" Culliford's designs are beautiful - there are straight lines and curves, and the composition of every panel in his books is gorgeous. But the forms and features are also exaggerated" - for example, if a Smurf needs to hold something over his head, Pierre "Peyo" Culliford could simply stretch his arms. By contrast, the Smurfs of the television series were designed to accommodate the fast production schedule of television animation. "We had to come up with a design that was toned down, but still Smurfy," Allen Battino continues.
Re-designing the Smurfs to work in a 3D world and coming up with all-new designs for the new characters took months, but the result pleased everyone, from the filmmakers to Pierre "Peyo" Culliford's family.
Perhaps the biggest change came in making it seem as if the characters had flesh and bone, a real anatomy. As Lydia Bottegoni, SPI's senior VFX producer, puts it, "The big challenge on this movie is translating historically 2D cartoon characters into a dimensionalised world."
"When you watch this movie, you have different expectations for the characters," Richard R. Hoover adds. "In making something look real and believable, there are a lot of considerations to make. There is the personality of the character, how they walk and move. You have to think about their physics and their weight and how skin reflects light."
Most important, perhaps, was acting performance of the characters. "There's a level of sincerity and naturalism that Raja Gosnell really wanted to see," says Troy Saliba. "So that was the challenge: keep the characters cartoony - they are the characters everyone knows - but have them perform just as convincingly as the actors do."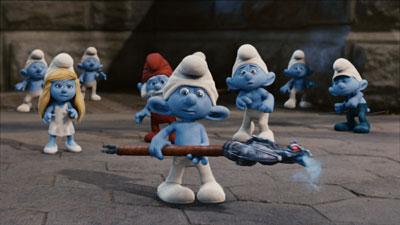 "The most important thing was that the characters had heart - that they were capable of giving as good a performance as any of the live-action actors," says Allen Battino, the character re-designer. "That was the only way for the audience to relate to them, to care about what happens to them."
"I'm incredibly proud of the work the animators did - combined with the voice actors, they gave these little guys souls," says Raja Gosnell.
Richard R. Hoover explains that art of helping to convince the viewer that the Smurfs really could become part of our world is in pushing the texture of their skin. Even if it's blue, he says, texture can tell you that Smurfs and humans aren't all that different after all. "Your eye perceives texture based on how the light plays on the surface. It tells you a lot about what things are made out of and what's inside them. Our Smurfs have pores, and freckles, and peach fuzz on their faces. Obviously, Papa Smurf has facial hair, Smurfette's got a big head of hair. We use all those things to describe the character and make you believe that they're real."
Still, the Smurfs stand on their own as a species. "Humans are, proportionally, seven-to-nine heads high. The Smurfs are about two-and-a-half heads tall. They have incredibly big feet - as long as, or longer, than their legs. If you were a Smurf, your head would be three feet wide and your hands would be the size of baseball mitts. What that meant was that we had to come up with their own Smurfy way of moving - since they don't have the proportions of a human being, they couldn't move like a human being, either."
As an example, Troy Saliba, the animation supervisor, cites a scene in which the Smurfs outrun Gargamel. "These characters are only 7½ inches tall. How can they outrun a six-foot man?" Troy Saliba asks. "What we worked out was that with their big feet, they are able to springboard themselves and move faster. Raja Gosnell found some internet reference of somebody that had strapped on a pair of giant spring shoes, and that worked for us. We could get our Smurfs moving just over ten feet a second. In a full-out run, Gargamel would catch them, but in short little sprints, it's believable that a Smurf could make an escape. Not to mention that they could use their size to dodge and weave between smaller obstacles that a person couldn't."
Richard R. Hoover and Troy Saliba were also on set, helping Phil Méheux and the actors perceive where the Smurfs would be and what they would be doing once the animation was completed. "You try to give the actors as much information as possible about the story, about how they behave, where they are, their eye lines. We use all kinds of little tricks for that, whether it's little dots on the table or wire outlines of their face," says Richard R. Hoover. "Then the actors have a better idea, in three-dimensional space, exactly where they are and when they're looking in the right spot. It's really important to the audience that the actors and animated characters are looking each other in the eye like they're actually talking to them. We had little models of all the Smurf characters that we use to act out scenes and we had voice actors on the set that read the lines of the characters so the actors and director can hear them, because all that leads up to the pacing of the scene."
"We had little silicone versions of our characters, with wire frames that we could pose," says Troy Saliba. "We'd block out the scene so Phil Meheux could light it at Smurf level, then we would bring in the actor and rehearse it three or four times, literally acting it out with me puppeteering the Smurfs, so they would get used to where the Smurfs were going to be. And then once everyone was comfortable, we shot it without the Smurf in there."
Troy Saliba notes that the animation process is incredibly technical - involving digital maps of the set, including set dressing, and even digital models of the live-action actors, all of which gets mapped frame-by-frame to the scene that was actually shot, all before the Smurf can be put into the scene and animated. That said, even as all of those technical details are sorted through, the animators also have to keep a close eye on the creative aspects. "We're asking ourselves, How is the sequence meant to flow? Where are the gags supposed to come? When to the emotional beats happen? The animation process needs the sort of person who can handle the technical aspect but also has a good creative sensibility."
The animators' creativity as they performed the Smurfs also helped solve a tricky technical problem: when watching a wide shot, audiences would have to immediately identify each of the six Smurfs. Some of these, like Papa (white beard, red clothes) or Smurfette (blonde mane) would be striking, but, as Raja Gosnell notes, "Grouchy and Clumsy have no identifying prop or feature." Clumsy does look a little different from Grouchy - his ears and feet are a little bigger, his hat his a little droopier - "but it's also a performance thing," says the director. "How does the character stand? What is his body attitude?" In that way, the animators not only had to be talented artists, but talented actors, bringing out these subtle differences.
The visual effects team also had the honor of translating production designer Bill Boes' elaborate designs for the magical Smurf Village into a CG-animated space. "We tried a lot of different design concepts to come up with the Smurf village," Bill Boes says. But we ended up with basically what everybody knows, yet in a realistic way. It took a lot of trial and error to get it right."
It turns out that it takes a village to make a village. "I had a whole army of artists," he adds, "and we just tried different things. For instance, with the mushroom shaped houses, we tried thick ones and squat ones, long ones and ones with chimneys. We started to come up with a visual language of what the mushroom houses should look like. Originally we designed them to be real mushrooms that they lived in. But when we got a little further in the research we realised that in Pierre "Peyo" Culliford's stories, the Smurfs actually built their houses to look like mushrooms."
To complete the transformation of the Smurfs from the 2D page to a fully realised, 3D world, Rob Engle, the film's 3D visual effects supervisor, describes his role this way: "My job is to make sure that when people put on their 3D glasses in the theater and experience the world of the movie, it's a consistent, immersive, and fun experience."
Because the Smurf village and the Smurfs exist entirely within the computer, these elements are fully realised in 3D. "The way Raja shot the movie, we had great flexibility in how we used the 3D," says Rob Engle. "We could render the CG worlds, and then, for the scenes in which we're integrating the Smurfs into our live-action world, we could use a hybrid technique where we add dimension to the plate.